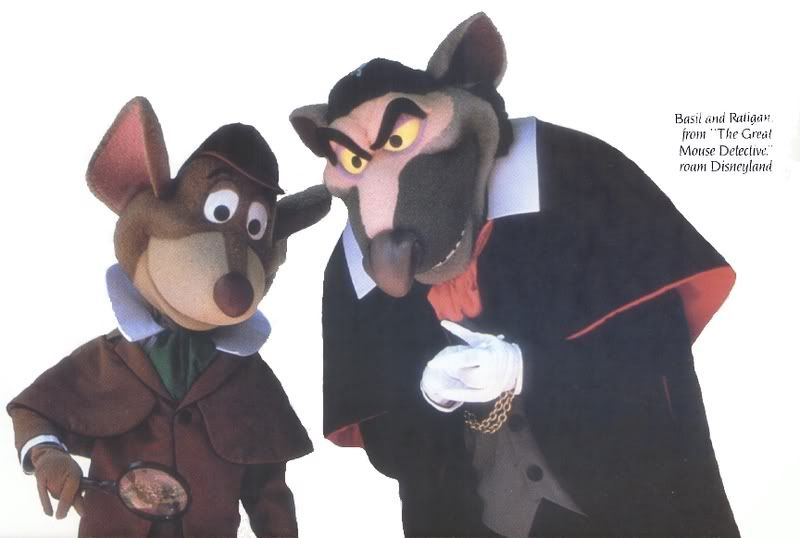 Photo courtesy of Disney News Magazine Issue Winter, 1986 Vol. 22, No. 1
Article on Page 4: Movie-goers were treated last summer to the premiere of Walt Disney Pictures' newest animated motion picture, "The Great Mouse Detective." Two figures from this distinguished cast made their debuts at Disneyland as larger-than-life characters when the film opened in July. Visitors to the Park enjoyed the antics of Basil, London's greatest mouse detective, and Professor Ratigan, Basil's devious arch enemy.
Producing these Disney characters involved the cumulative talents of many people, whose efforts were coordinated by Disney costume designer Alyja Kalinich. "The challenge," explained Kalinich, "was to make these characters look like what the animator created and bring them to three-dimensional life."
Basil and Ratigan's heads were constructed by a sculptor. Said Kalinich, "Unlike an animated movie where a character's facial expressions can change any time, our in-Park characters must communicate a variety of feelings with one expression and without the use of a speaking voice."
The characters' bodies, meanwhile, were fabricated by Disneyland artisans, which included pattern makers, dyers, costumers (who helped coordinate the operations and set up times for fittings), buyers (fabric, etc.) and seamstresses.
The finished characters were presented to Roy E. Disney, plus "The Great Mouse Detective" producer Burny Mattinson, and directors John Musker, Ron Clements and Dave Michener for final approval.
"What I like most about this project is that Basil and Ratigan are from a new animated release, which to me, is very exciting," said Kalinich. "From working with these characters I tried to capture the essence and dimension of them both. I feel I really got to know these guys."
© 1986 The Walt Disney Company