Shopping Cart
Your Cart is Empty
There was an error with PayPal
Click here to try again
Thank you for your business!
You should be receiving an order confirmation from Paypal shortly.
Exit Shopping Cart
Disclaimer:
The Game's Afoot! is an unofficial and unendorsed fansite for Disney's animated classic The Great Mouse Detective (1986). First published in March 2007, The Game's Afoot! was started by Andrea. In May 2008, it was adopted/taken over by Brina, who currently runs and maintains this site. The Game's Afoot! strives to be the online resource for comprehensive information related to one of Disney's most underrated and underappreciated animated films. It is in no way affiliated with Disney, Disney.com, or any other Disney-related entity. Any direct contact with Disney, its associates, voice actors and so forth is not available through this site.
Copyrights:
The Game's Afoot! is copyrighted © 2007-2008. Its original layout and graphics were designed by AW.Net. Please do not copy, steal, or display any content from this website elsewhere without permission. Resources have been properly credited and belong to their respective owners. We believe we are using these files for fan purposes only, within the laws of the Fair Use Copyright Law 107. Please contact and request specific content to be removed before taking any legal action.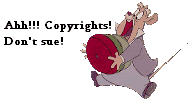 Look! We mean business now! Yes, after months of submitting material to this site, I felt it was time to give it more attention by handing out business cards. If you would like a hard copy, please E-mail me. I would need an address to send it to you. No charge, I'll cover the postage. One favor is that I would ask you not to waste it or treat it like a gum wrapper. These cards cost money to print. I would like to see that these cards go to good homes. Thank you for your support!
/